Aibote has been extensively praised since 2005 when it started providing residential water filtration systems and water heating systems throughout the world. For 17 consecutive years, we have partnered with domestically renowned brands such as Haier, JD, Suning, and Supor, and have provided water filtration solutions to international brands including Philips, Pentair, Honeywell, Kohler and Whirlpool.
Aibote works intimately with you through every critical step of pre-stage market research, design, prototyping, to tooling, manufacturing and delivery. With an experienced team incorporating designers, technical engineers and QC specialists who have long been engaged in their fields, you will be amazed and confident in Aibote as your long-term partner who will constantly support you with valuable benefits.
World-Class Manufacturing Capacity
Six Sigma process controls
ISO9001, ISO14001, NSF, CE, CCC certified
Dust-free workshop and anti-UV ISO-temperature warehouse
Injection molding, robotic molding, ultrasonic welding, and automatic assembly lines

Reverse osmosis membrane production
320,000-square feet new plant opened in 2021, with 10,000-square feet R&D and QC labs
ODM / OEM Service

A dedicated R&D team to generate innovative ideas
Commonly application of the latest CAD/CAM methods for the design
Regulatory requirements are carried out for the project
Advanced quality management systems PPAP, FMEA, and SPC are applied for all projects
PLM (product lifecycle management) system is applied for all projects

Design Capabilities

Design & development expertise providing innovative products
Highly qualified engineers and project specialists
Ability to realize customer's ideas on feasible designs
Customized tooling designed and launched to support lean production

Product Reliability

R&D validation: prototyping, testing and modification
Leading patented technologies providing compact waterway board, reverse osmosis membrane and carbon block filtration
Regulatory compliance assurance
Certifications by NSF, CE and Chinese Ministry of Health

Less Production Cost

Adoption of ERP and MES systems for production and warehouse
Stable supply chains reduce customers' extra costs
Customized on-site tooling launch
Flexibility for outsourcing prequalified suppliers
Lean production
Water Treatment Certification
Providing safe drinking water is crucial to human health. As a water filter system dealer, choosing to provide certified and qualified products makes you stand out in the competitive market. Certifications issued by authorities declare the below 5 points:
Material Safety: to guarantee that the materials used are safe and do not generate harmful contaminants into the drinking water;
Structural Integrity: to guarantee that pressurized products do not leak and keep their integrity for the duration of a product;
Product Packaging Review: to guarantee that performances correspond to test results and avoid any false or misleading claims;
Factory Audit: to guarantee that the products are manufactured using the same procedures and high-quality materials;
As a leading OEM/ODM manufacturer of water filtration system in the domestic market, Aibote has provided expert services for nearly 200 brands across the globe since its first foundation. We at Aibote have a meticulous understanding of the water treatment technologies and water filtration products with a respectable achievement. Every technology, process and product is pursued by Aibote for excellence and perfection. Several patented technologies have been applied to our water filtration products, taking our production stay ahead in the competitive market. The features of our products such as high output, low noise level, compact structure and high water and energy saving, have always ensured us at the forefront of the industry.
Constant innovation is the key driver supporting Aibote' quick and healthy development, and it is also the direction we will continue to pursue. At Aibote, we will keep moving forward with our firm commitment to protecting the safety of drinking water.
Customization Process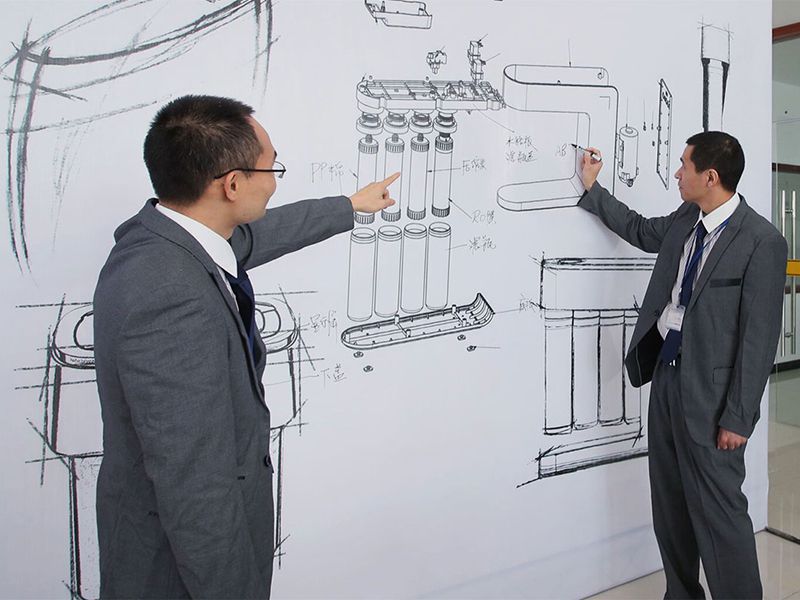 Customers request the product features they desire;
Aibote provides drawings and identify an appropriate solution adapted to the product characteristics provided by the customer;
Following customer's approval of the product plan, Aibote's R&D team assesses technology, tackles technical challenges and improves the product plan;
Mold fabrication, trial and modification are executed to realize the expected product plan;
Small batch production is carried out for necessary sample testing;
Aibote starts mass production;
The product is manufactured and delivered in accordance with the requirements of the customer;
Round the clock online customer support is available by quickly responding to customers' questions and communicating with customers online regarding their experiences using the product;
Our manufacturing plant is made up of 4 main workshops: injection molding workshop, RO membrane rolling workshop, waterway board assembly workshop and whole unit assembly workshop. And it comes equipped with 6 intelligent injection molding lines, 3 dust-free automatic filter membrane production lines, 2 automatic filter cartridge assembling lines and 4 water filter assembling lines. At injection molding workshop, there are 57 robotic manipulators with mold monitoring system that shows the status of molds in real time. In RO rolling workshop, there are anti-UV iso-temperature warehouse to store the filters. In waterway board workshop, you will witness AIBOTE pioneering waterway board production and assembly process. In whole unit assembly workshop, standardized assembly process and inspection procedure is strictly performed. Please rest assured every Aibote product carries with Aibote people's most attention and efforts!