Integrated Water Circuit Technology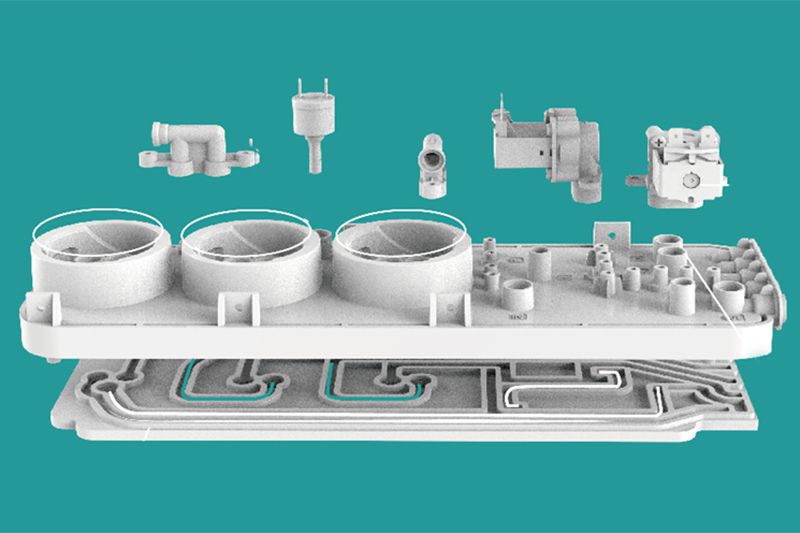 High efficiency connection
High pressure switch
Non-return valve
Drain water solenoid valve
Feed water solenoid valve
Waterway board
Connection
High pressure bearing capacity of 32kg without causing water leakage
99% reduction in potential water leakage
6S compact waterway board features an ultra-simple design that enables the traditional water filter system with more than 80 components and more than 40 connection ports to be significantly simplified to approximately 20 components and 13 quick connection ports. Therefore, the internal structure of the water filtration system has been drastically simplified, and smaller in size.
Water filter system reduction in size by more than half
The ultra-simple waterway board with 13 connection ports adopts the integrated water circuit technology known as a mature technology within the industry, which not only significantly reduces the size of the water filter system but also allows for more personalized appearance to adapt to users' individual preferences. Aibote is at the forefront of the industry to bring you the benefits of new era of water filter system.
Patented integrated composite filter cartridge technology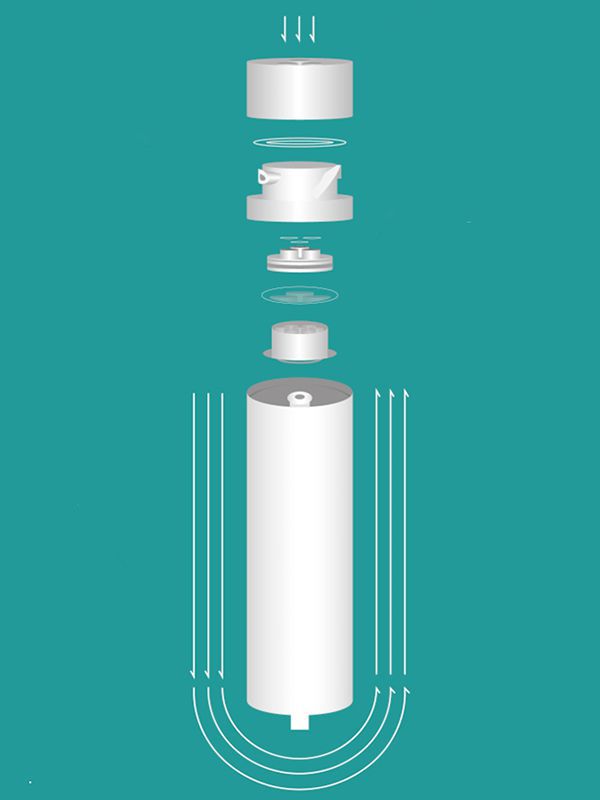 Quick filter replacement within 3 seconds
Double locking
Push-fit connection
Multi-stage filtration
Smart double water locking design
Zero installation and self cleaning, 50% reduction in filter cartridge size
Patented structure invention, smaller filter cartridge size
The latest generation of composite filter cartridge technology from Aibote makes it possible to connect two individual filter cartridges in series into one filter housing, and a structure of two independent water passageways is formed thanks to the center tube set in the middle of the filter housing, giving two water inlets and two water outlets. A multi-layer design efficiently prevents carbon powder and impurities from overflowing. The composite filter cartridge is truly small in size, free of installation, free of cleaning and more environmentally friendly.
Double locking, greater convenience and assurance
Self-locking water outlet ensures no leaks when replacing filter cartridge. The filter cartridge housing port is sealed by rotary seal plate and fixed plate located at the opening of the filter housing, thus enabling the both water outlets of filter housing and waterway board to be closed simultaneously. Therefore, filter cartridge can be easily changed without causing water overflowing as well as secondary pollution.
Free installation, self cleaning and easy filter replacement within 3 seconds
Push-fit filter cartridge makes replacement incredibly easy. Aibote's quick connection design of push-fit filter cartridge makes changing filter cartridges as simple as turning a switch, it only takes 3 seconds to change a filter cartridge.
Patented double shock absorption & noise reduction technology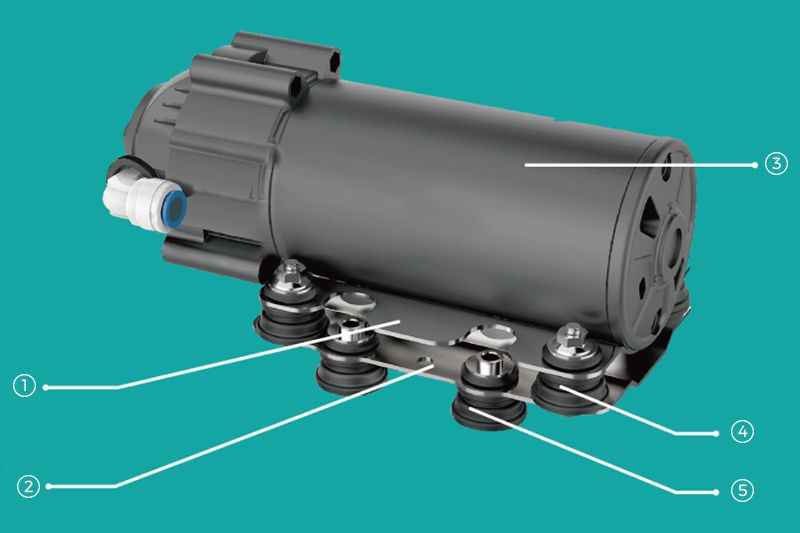 First shock absorber
Second shock absorber
Booster pump
First silicone leg
Second silicone leg
Aibote's double shock absorption technology can effectively lessen the noise brought on by the impact of water flow and the operation of the booster pump. With the installation of double-layer shock absorption module, the vibration of the booster pump can be greatly reduced thereby avoiding the noise problem that often occurs in the conventional structure utilizing a single-layer support to connect the booster pump with the shell.
Reverse osmosis filter cartridge technology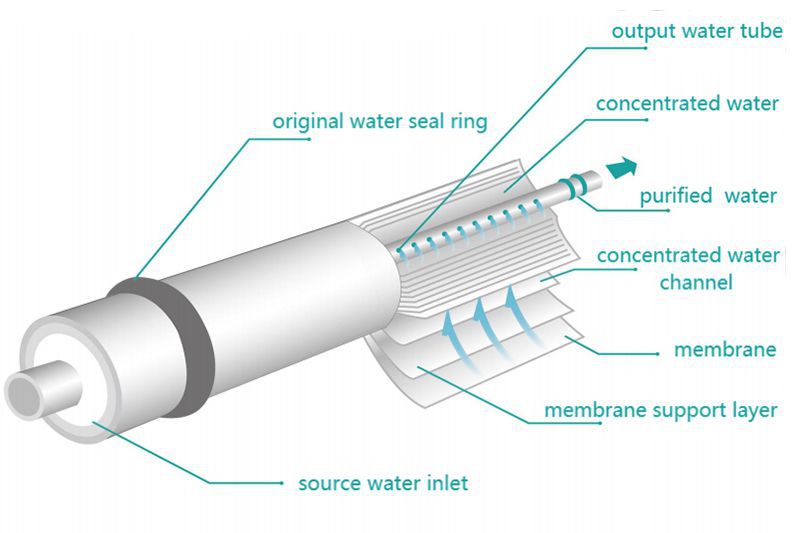 Raw water seal ring
Water inlet
Output water tube
Concentrated water
Purified water
Concentrated water passageway
Membrane
Membrane support layer
Reverse osmosis, or simply names as RO, is a currently advanced and energy-efficient membrane separation technology. It's principle is that other substances can not pass through the semi-permeable membrane when the pressure is greater than osmotic pressure, thereby separating these substances and water. Because the pore size of RO membrane is extremely small, only one ten thousandths of one micron (0.0001 microns), so that substances such as dissolved salts, colloids, microorganisms, bacteria, organic matter, heavy metals and other harmful substances in water can be effectively removed. The filtration rate of RO membrane can reach 97%-98%, making it the most commonly used water desalination technology in water purification equipment.
---
Our manufacturing plant is made up of 4 main workshops: injection molding workshop, RO membrane rolling workshop, waterway board assembly workshop and whole unit assembly workshop. And it comes equipped with 6 intelligent injection molding lines, 3 dust-free automatic filter membrane production lines, 2 automatic filter cartridge assembling lines and 4 water filter assembling lines. At injection molding workshop, there are 57 robotic manipulators with mold monitoring system that shows the status of molds in real time. In RO rolling workshop, there are anti-UV iso-temperature warehouse to store the filters. In waterway board workshop, you will witness AIBOTE pioneering waterway board production and assembly process. In whole unit assembly workshop, standardized assembly process and inspection procedure is strictly performed. Please rest assured every Aibote product carries with Aibote people's most attention and efforts!