Filtration System 5-stage composite filter cartridge (ACF+RO+C)
UV sterilizer
Flow Rate 1.56L/min (purified cold water)
≥0.75L/min (purified 60℃ hot water);
≥0.50L/min (purified 45℃ hot water);
Functions Filter status monitoring and temperature selection can be achieved through smart display faucet
Auto-flushing to ensure safety and purity of water at all times
Easy filter replacement with one touch
Dry-burning prevention design
Thin and compact construction to save under sink space
Features of RO Instant Hot Water Dispenser System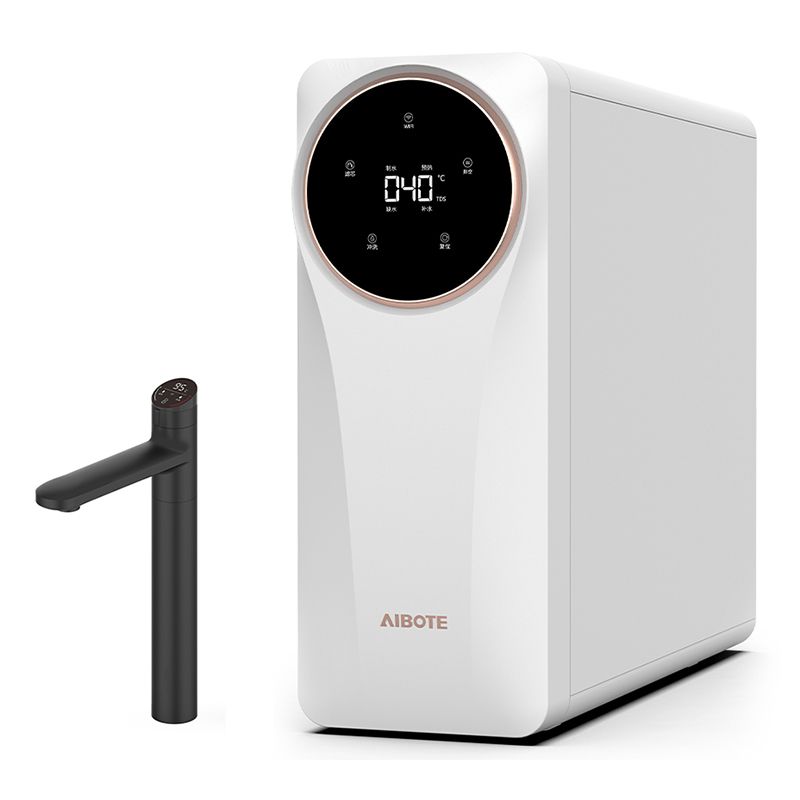 High precision RO purification and instant access to hot water
Our RO instant hot water dispenser system is equipped with a five-stage filtration cartridge (ACF+RO+C) and a UV sterilizer, which can remove odors and eliminate bacteria, viruses and heavy minerals in water, with filtration precision of 0.0001um. In addition, we have placed the post-position carbon block in the water filter system that can add minerals essential to people's health in the water with better taste. The UV sterilizer inside guarantees zero bacteria and virus in your drinking water. Besides, our RO instant hot water dispenser system has a heating device that preserves enough hot water available at any time of a day. Three levels of water temperature 23℃, 45℃ and 60℃can be selected by simply pressing the buttons on smart display faucet. Fresh and great tasting water perfect for drinking, cooking and making coffee and tea is ready in the tank.
Specially-designed integrated water circuit effectively prevents water leakage
Fast-flow, fresh and great tasting water perfect for drinking, cooking and making delicious coffee, tea
Quiet operation with noise level of less than 40dB
Small size of the instant hot water dispenser system saves space in your kitchen
Real-time monitoring of water TDS, which can be read via smart display faucet
Filter lifetime reminding function, with easy filter replacement
Specifications
| | |
| --- | --- |
| Model | ABT-RO2103A |
| Dimensions | 456.5*150.5*379.5mm |
| Flow rate | 1.56L/min (purified cold water); ≥0.75L/min (purified 60℃ hot water); ≥0.50L/min (purified 45℃ hot water); |
| Filter cartridge | ACF+RO+C UV sterilizer |
| Number of filtration stage | 4-stage / 5-stage |
| Filter cartridge lifetime | 12-18 months (depending on the quality of water source) |
| Filter cartridge type | Disposable filter cartridge |
| Voltage | AC 220V/50Hz |
| Power | 2200 (+5/-10%) W |
| Feed water pressure | 0.1-0.4MPa |
| Working pressure | 0.4-0.8MPa |
| Feed water temperature | 5-38℃ |
| Ambient temperature | 4-40℃ |
| Rated water output | 4000L |
| Faucet | Dual-handle faucet with smart display |
| Functions (customizable) | Raw water TDS display Filter cartridge lifetime indicator Failure alert LED light Purified water temperature display "Flush" button "Reset" button |
| Water leakage alert | All indicators flashing with beeping |
Water Filter System Installation and Filter Cartridge Replacement
Simple installation of under sink water filter system, DIY installation is possible
Real-time monitoring of filter cartridge lifetime
Easy replacement of filtration cartridge
1. Place the water filter system horizontally and steadily
2. Press the button for filter replacement and remove the expired filter, and push the new filter into the system
3. Press the "Reset" button for resetting and flushing of the filter cartridge
Our eco-friendly RO water filter system could help reduce the consumption of bottled water, thus saving your money and protecting the environment from plastic waste
Certificates
China Water Efficiency Label
CE Certificate
Validation of National Health Commission of PRC

NSF International
ISO 9001 Quality Management System
Our manufacturing plant is made up of 4 main workshops: injection molding workshop, RO membrane rolling workshop, waterway board assembly workshop and whole unit assembly workshop. And it comes equipped with 6 intelligent injection molding lines, 3 dust-free automatic filter membrane production lines, 2 automatic filter cartridge assembling lines and 4 water filter assembling lines. At injection molding workshop, there are 57 robotic manipulators with mold monitoring system that shows the status of molds in real time. In RO rolling workshop, there are anti-UV iso-temperature warehouse to store the filters. In waterway board workshop, you will witness AIBOTE pioneering waterway board production and assembly process. In whole unit assembly workshop, standardized assembly process and inspection procedure is strictly performed. Please rest assured every Aibote product carries with Aibote people's most attention and efforts!