Filtration System PCR filter: PP+C+PP+RO composite filter;
RO filter: Reverse osmosis membrane filter;
Flow Rate 600GPD (1.56L/min), flow rate availability 400GPD-1200GPD
Purified/Drain Ratio 2:1 pure to drain
Personalized Functions Double RO systems structure to ensure "0" overnight water
Dual flow filtration with anti-flooding sensor
Real-time raw water/ purified water TDS display
Filter lifetime double LED light indicator
Full screen flashing for failure alerting
Optional Faucet Types Single-handle faucet
Double-handle faucet
LED ring faucet
Smart display faucet
Model Options
Features of 600GPD Reverse Osmosis System
Smart TDS display, easy surveillance of water quality
Aibote's under sink reverse osmosis system is equipped with a LED display at the bottom of filter system body, which allows users to monitor the level of total dissolved solids (TDS) in purified water and ordinary tap water (optional). The TDS value of purified water varies depending on the quality of water source in different areas.
Two water outlets, two filtration options
This under sink RO water filter system is equipped with two outlets that can deliver both filtered water for washing and purified water for direct drinking at the same time. The filtered water goes through only the PCR filter cartridge, which eliminates sediments, sand, rust, suspended matter, nematodes, residual chlorine and unusual colors. It is not drinkable, but can be used to wash meat, fruit and vegetables. In contrast, purified water go through both PCR and RO filters, which keep out all impurities (0.0001μm-0.001μm), including heavy metal ions, salt, some bacteria, viruses and antibiotics, with only water molecules flowing through. Any of your needs will be satisfied for direct drinking or daily cooking.
Two RO filter cartridges, no overnight water
A primary RO filter cartridge and a secondary RO filter cartridge are installed inside our reverse osmosis system, which is a patent held by Aibote. Primary RO filter will periodically purify water to flush away residual water stored in the secondary RO filter. So you can always access fresh water no matter when you tap the faucet.
Filter lifetime indicator is installed on filter body;
The reverse osmosis system will send alert when malfunctions happen;
Integrated water circuit efficiently prevent water leakage;
Small footprint, suitable for being stored under sink;
Anti-flooding sensor is installed in our reverse osmosis system;
1.56L/min flow rate, 5.7 seconds to fill a 150ml cup of water;
Unique noise-reduction design, no disturbance to babies and elders;
Specifications
| | |
| --- | --- |
| Model | ABT-RO1901C |
| Dimensions | 365*135*369mm |
| Flow rate | 600GPD (1.56L/min) (400-1200GPD optional) |
| Filter cartridge | PCR+RO |
| Filtration stage | 5-stage |
| Filter lifetime | PCR: 6-12 months RO: 24-60 months (depending on the quality of water source) |
| Cartridge type | Disposable filter cartridge |
| Voltage | 24V |
| Power | 80W (depending on water flow rate) |
| Feed water pressure | 0.1-0.4MPa |
| Working pressure | 0.4-0.8MPa |
| Feed water temperature | 5-38℃ |
| Ambient temperature | 4-40℃ |
| Water output | Single outlet: 6000L (two outlets: 6000L+6000L) |
| Optional faucet type | Single-handle faucet Double-handle faucet Smart display faucet LED ring faucet |
| Functions (customizable) | Filter lifespan indicator Malfunction alert "Flush" button "Reset" button |
| Water leakage alert | Full screen flashing, with beeping |
Water Filter System Installation and Filter Cartridge Replacement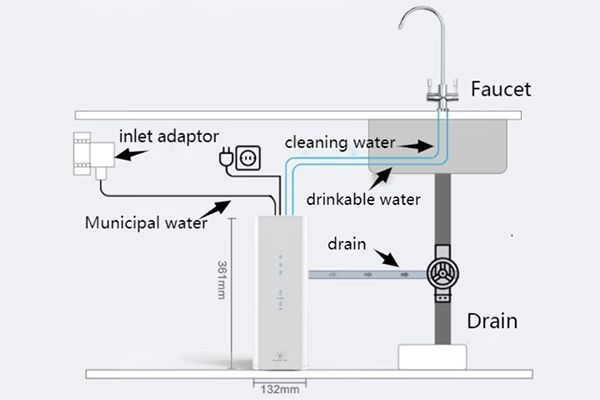 Easy installation, DIY installation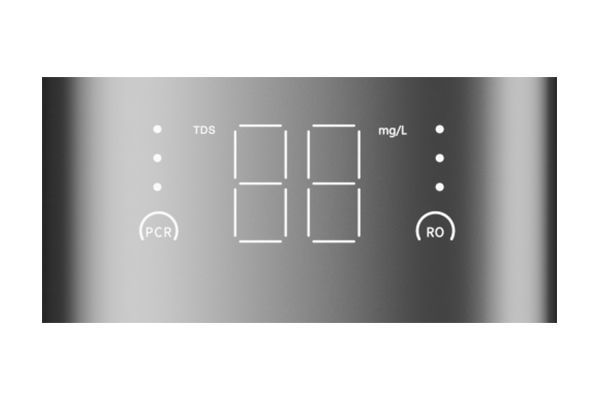 Filter lifespan indicator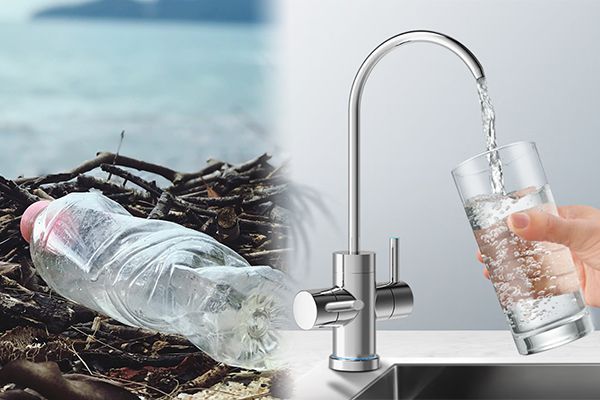 Our reverse osmosis system is money-saving because there are no needs to buy bottled water, which helps protect environment since less plastic waste is generated.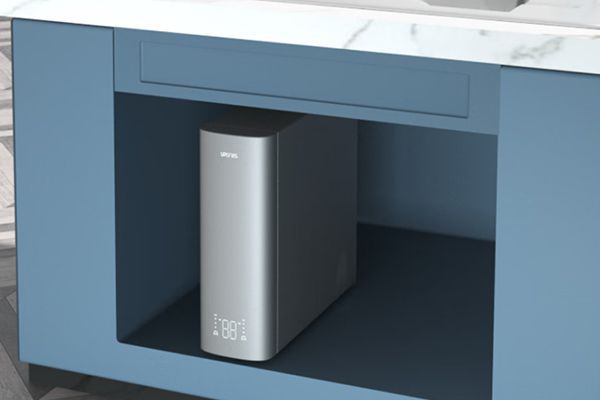 Small footprint and tankless design enable the reverse osmosis system to occupy small space.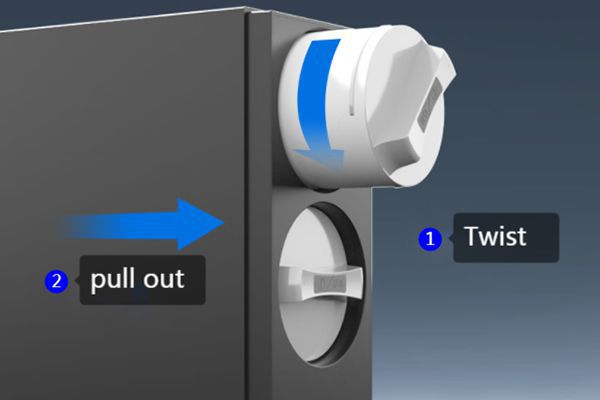 Easy change of filter cartridge
1. Turn the knob counterclockwise and pull out the expired filter
2. Insert a new filter and turn the knob clockwise
3. Put back the front cover and the filter replacement is done
Certificates
China Water Efficiency Label
CE Certificate
Validation of National Health Commission of PRC

NSF International
ISO 9001 Quality Management System
Reverse Osmosis System and Parts
Our manufacturing plant is made up of 4 main workshops: injection molding workshop, RO membrane rolling workshop, waterway board assembly workshop and whole unit assembly workshop. And it comes equipped with 6 intelligent injection molding lines, 3 dust-free automatic filter membrane production lines, 2 automatic filter cartridge assembling lines and 4 water filter assembling lines. At injection molding workshop, there are 57 robotic manipulators with mold monitoring system that shows the status of molds in real time. In RO rolling workshop, there are anti-UV iso-temperature warehouse to store the filters. In waterway board workshop, you will witness AIBOTE pioneering waterway board production and assembly process. In whole unit assembly workshop, standardized assembly process and inspection procedure is strictly performed. Please rest assured every Aibote product carries with Aibote people's most attention and efforts!