Filtration System PCR filter: PP+C+PP+RO composite filter
RO filter: Reverse osmosis membrane filter
Flow Rate 500GPD (1.30L/min), flow rate availability 400GPD-1200GPD
Purified/Drain Ratio 2:1 pure to drain
Personalized Functions Double RO structure for extra RO flushing
Anti-flooding design
Malfunction alert
Filter life LED indicator on both faucet and machine body
Optional Faucet Types Single-handle faucet
Double-handle faucet
LED ring faucet
Smart display faucet
Model Options
Features of 500GPD Reverse Osmosis System
Two filter cartridge, five-stage filtration
Aibote's tankless double outlet RO water system features a 5-in-2 structure, namely five-stage filtration in two filter cartridges. There are two RO filters in this water filter system, one working independently and the other installed in the PCR filter, which also consists of polypropylene, coconut shell activated carbon, and high-precision polypropylene. The PCR filter is able to eliminate larger particles like sand, rust, suspended matters and colloids. Residual chlorine, smell and unusual colors will also be removed. After being purified, the water tastes better.
The other RO filter works independently. It is made up of several layers of RO membranes that can filter contaminants ranging from 0.0001 to 0.001µm, including heavy metal ions, inorganics, bacteria and viruses.
Two RO filters, no overnight water
Aibote has obtained a patent on the technology of zero overnight water. To realize it, the smaller RO filter inside the water filter system will regularly filter water to flush the bigger RO filter so as to remove residual water. With this feature, you can always access fresh water by simply turning on the tap.
The RO water system is designed with a double-handle LED ring faucet, through which the filter lifetime can be monitored;
Integrated water circuit for preventing water leakage;
The flow rate of the RO water system is adjustable, from 1.04 L/min to 3.12 L/min, satisfying your daily needs for washing and drinking;
Two RO filters guarantee no residual water is stored in the RO water system;
Quite operation, noise level lower than 50dB;
Small footprint, easy installation;
Filter lifetime indicator on both system body and faucet;
Specifications
| | |
| --- | --- |
| Model | ABT-RO1901M |
| Dimensions | 365*135*369mm |
| Flow rate | 500GPD (1.30L/min) (400-1200GPD optional) |
| Filter cartridge | PCR+RO |
| Filtration stage | 5-stage |
| Filter lifetime | PCR: 6-12 months RO: 24-60 months (depending on the quality of water source) |
| Filter cartridge type | Disposable filter cartridge |
| Voltage | 24V |
| Power | 80W (depending on water flow rate) |
| Feed water pressure | 0.1-0.4MPa |
| Working pressure | 0.4-0.8MPa |
| Feed water temperature | 5-38℃ |
| Ambient temperature | 4-40℃ |
| Water output | Single outlet: 6000L (Two outlets: 6000L+6000L) |
| Optional faucet type | Single-handle faucet Double-handle faucet Smart display faucet LED ring faucet |
| Functions (customizable) | TDS display Filter lifetime indicator Operation indicator Malfunction alert "Flush" button "Reset" button |
| Water leakage alert | Full screen flashing, with beeping |
Water Filter System Installation and Filter Cartridge Replacement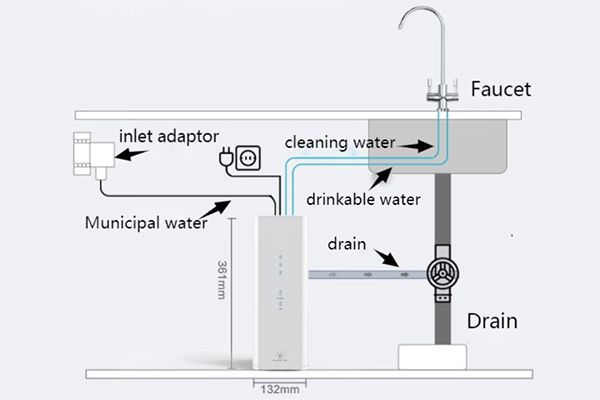 Easy Installation, DIY installation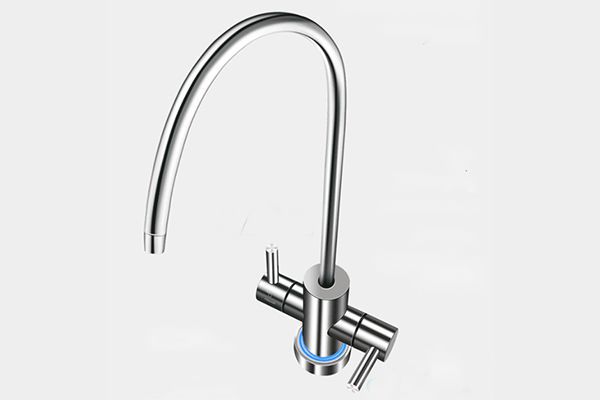 Two ways to indicate filter life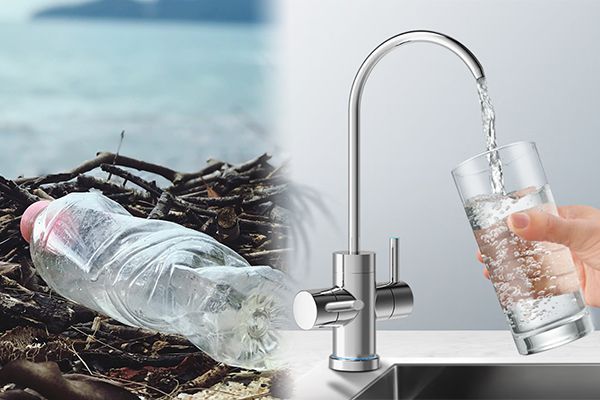 Make economic sense, environmentally friendly (no need for bottled water, less plastic waste)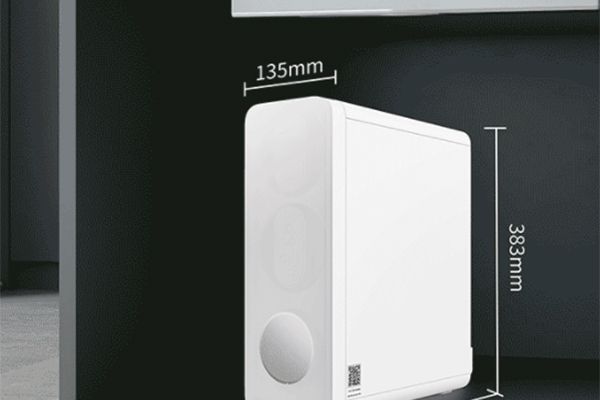 Compact and tankless design preserve enough under-sink storage space for other items.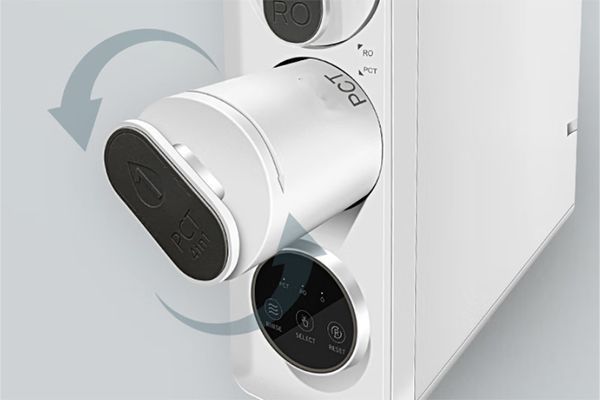 Easy change of cartridge
1. Turn the knob counterclockwise and pull out the expired filter
2. Insert a new filter and turn the knob clockwise
3. Put back the front cover and the filter replacement is done
Certificates
China Water Efficiency Label
CE Certificate
Validation of National Health Commission of PRC

NSF International
ISO 9001 Quality Management System
RO Water Filter System and Parts
Our manufacturing plant is made up of 4 main workshops: injection molding workshop, RO membrane rolling workshop, waterway board assembly workshop and whole unit assembly workshop. And it comes equipped with 6 intelligent injection molding lines, 3 dust-free automatic filter membrane production lines, 2 automatic filter cartridge assembling lines and 4 water filter assembling lines. At injection molding workshop, there are 57 robotic manipulators with mold monitoring system that shows the status of molds in real time. In RO rolling workshop, there are anti-UV iso-temperature warehouse to store the filters. In waterway board workshop, you will witness AIBOTE pioneering waterway board production and assembly process. In whole unit assembly workshop, standardized assembly process and inspection procedure is strictly performed. Please rest assured every Aibote product carries with Aibote people's most attention and efforts!