Filtration System PCT filter: PP+C+PP+T33 composite filter
RO filter: Reverse osmosis membrane filter
Flow Rate 1000GPD (2.60L/min), flow rate availability 400GPD-1200GPD
Purified/Drain Ratio 2:1 pure to drain
Personalized Functions High flow rate, 3.5s to fill a 150ml cup of water
Remineralize to get mineral elements and better taste
Anti-flooding structure
Filter lifetime LED light indicator
Dual outlet to deliver purified water for cleaning and direct drinking purposes
Optional Faucet Types Single-handle faucet
Double-handle faucet
LED ring faucet
Smart display faucet
Model Options
Features of 1000GPD Remineralizing RO System
Double water circuits, high flow rate
Aibote's remineralizing RO water filter system features two water circuits that can deliver filtered water (undrinkable) and purified water (drinkable). The flow rate of purified water reaches 1000GPD, which means you can fill a cup of 150 ml within 3.5 seconds, definitely meeting household drinking demands. What's more, the flow rate of filtered water is even faster than the purified one.
Filtered water and purified water, versatile use
Aibote's RO water filter system is able to deliver both filtered water and purified water. Filtered water refers to the water flowing through PCT cartridge, during which larger particles like sediments, sand and rust have been removed. The water is not drinkable, but can be used to wash meat, fruit and vegetables.
Purified water refers to the water flowing through both PCT and RO cartridge. All impurities (0.0001μm-0.001μm) have been filtered out, such as heavy metal ions, salt, some bacteria and viruses. After that, minerals will be added to keep you healthy.
Add minerals, tastier and healthier
The pores of RO membrane are too small that will filter out almost all metal ions, including salutary minerals, such as calcium, magnesium, ferrum and zinc, with only water molecules flowing through. After being purified, the water tastes flat. To make the water healthier and tastier, Aibote has added T33 filter into the RO water filter system to achieve remineralization and add salutary micronutrients, like selenium and strontium, into the water.
The remineralizing RO water filter system is equipped with integrated water circuit to prevent water leakage. Furthermore, an anti-flooding sensor is installed to further protection against water leakage;
Unique noise-reduction design to keep noise level smaller than 50dB;
Small footprint under the sink leaves enough space for other items;
The remineralizing RO water system is equipped with filter lifetime indicator on the system body and LED ring faucet.
Specifications
| | |
| --- | --- |
| Model | ABT-RO1901J |
| Dimensions | 365*135*369mm |
| Flow rate | 1000GPD (2.60L/min) (400-1200GPD optional) |
| Filter cartridge | PCT+RO |
| Filtration stage | 5-stage |
| Filter lifetime | PCT: 6-12 months RO: 24-60 months (depending on the quality of water source) |
| Filter cartridge type | Disposable filter cartridge |
| Voltage | 24V |
| Power | 100W (depending on water flow rate) |
| Feed water pressure | 0.1-0.4MPa |
| Working pressure | 0.4-0.8MPa |
| Feed water temperature | 5-38℃ |
| Ambient temperature | 4-40℃ |
| Water output | Single outlet: 6000L (two outlets: 6000L+6000L) |
| Optional faucet | Single-handle faucet Double-handle faucet Smart display faucet LED ring faucet |
| Functions (customizable) | Filter lifespan indicator Malfunction alert "Flush" button "Reset" button |
| Water leakage alert | Full screen flashing, with beeping |
Water Filter System Installation and Filter Cartridge Replacement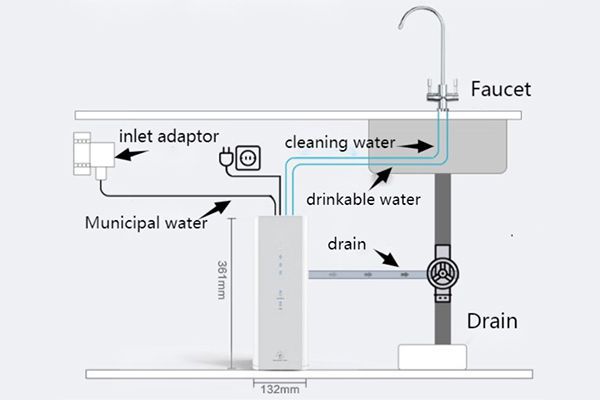 Easy installation, DIY installation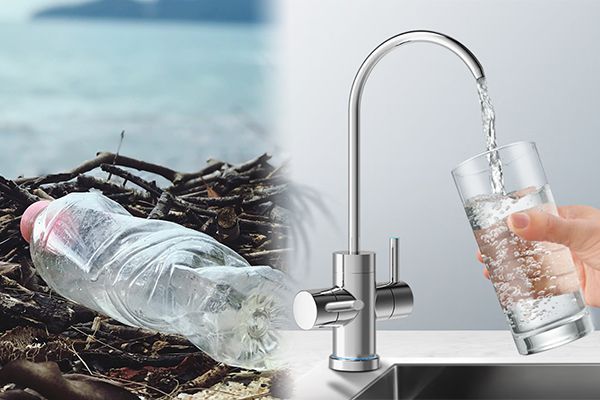 Make economic sense, environmentally friendly (no need for bottled water, less plastic waste)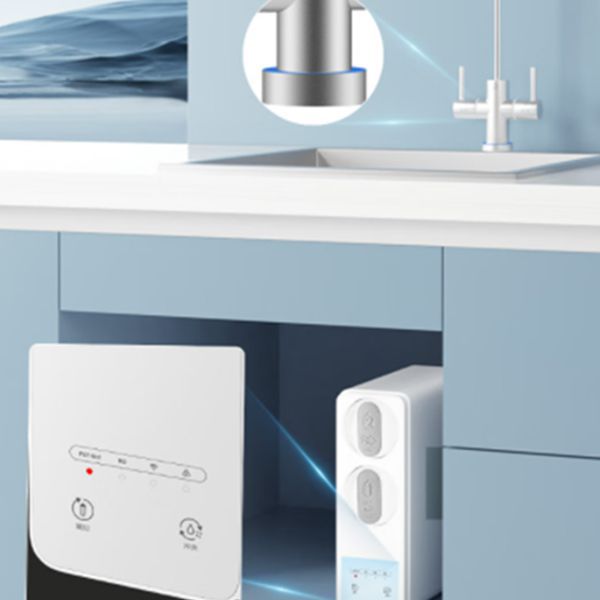 Filter lifetime indicator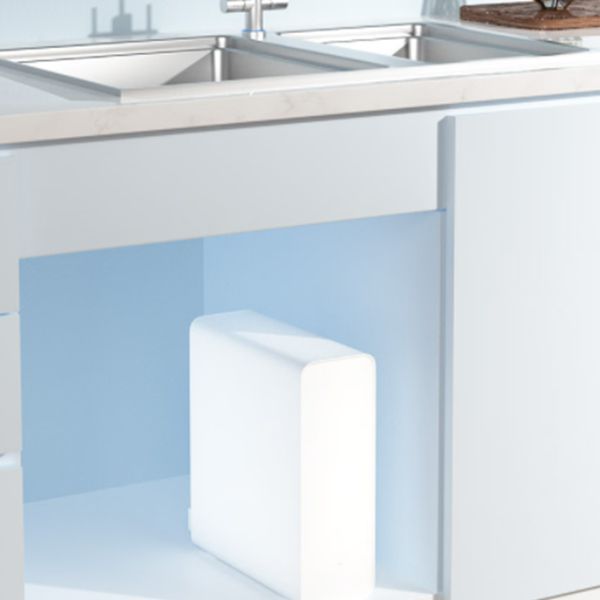 Compact and tankless design preserve enough under-sink storage space for other items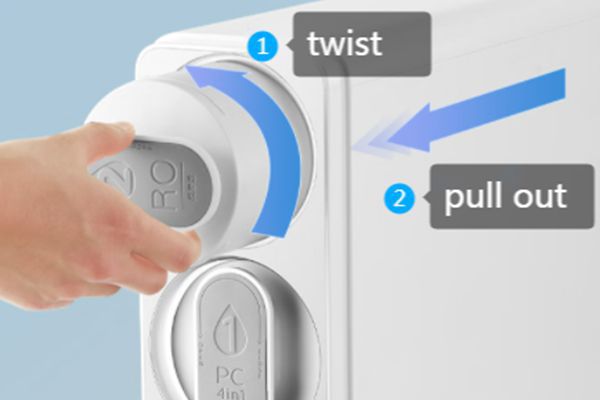 Easy replacement of filter cartridge
1. Turn the knob counterclockwise and pull out the expired filter
2. Insert a new filter and turn the knob clockwise
3. Put back the front cover and the filter replacement is done
Certificates
China Water Efficiency Label
CE Certificate
Validation of National Health Commission of PRC

NSF International
ISO 9001 Quality Management System
Remineralizing RO water system and parts
Our manufacturing plant is made up of 4 main workshops: injection molding workshop, RO membrane rolling workshop, waterway board assembly workshop and whole unit assembly workshop. And it comes equipped with 6 intelligent injection molding lines, 3 dust-free automatic filter membrane production lines, 2 automatic filter cartridge assembling lines and 4 water filter assembling lines. At injection molding workshop, there are 57 robotic manipulators with mold monitoring system that shows the status of molds in real time. In RO rolling workshop, there are anti-UV iso-temperature warehouse to store the filters. In waterway board workshop, you will witness AIBOTE pioneering waterway board production and assembly process. In whole unit assembly workshop, standardized assembly process and inspection procedure is strictly performed. Please rest assured every Aibote product carries with Aibote people's most attention and efforts!