Filtration System PPC filter: PP+C+PP composite filter
RO filter: Reverse osmosis membrane filter
T33+Alkaline filter: T33 carbon block with alkaline
Flow Rate 400GPD (1.04L/min), flow rate availability 400GPD-600GPD
Purified/Drain Ratio 2:1 pure to drain
Personalized Functions Add alkaline to neutralize water
Remineralize to get necessary mineral elements and better taste
Dual outlet to deliver purified water for cleaning and direct drinking purposes
Customization of key touch pad for multiple functions
Optional Faucet Types Single-handle faucet
Double-handle faucet
LED ring faucet
Smart display faucet
Model Options
Features of 400GPD Alkaline RO System
Small footprint, customizable smart monitor
Aibote's alkaline RO system has a small footprint. The design leaves enough space for the storage of other items under the sink. The filter cartridge inside the water filter system is vertically installed, so you just need to open the upper cap to change it. A smart monitor is installed on the front of the body. It is highly customizable. You can customize a LCD screen to display the level of total dissolved solids (TDS) and send alert of water leaks and malfunctions. Multiple buttons can also be installed to achieve filtering, resetting and flushing.
Minerals and alkalis, secrets to a healthy life
Aibote's 400GPD alkaline RO system is equipped with a T33 filter that can add both minerals and alkaline substance into the water. Let's start from alkaline substance, it can adjust pH and maintain the level at around 7.35-7.45 to reduce the risk of blood pressure, short-sightedness and bone diseases. With regard to minerals, calcium, magnesium, ferrum, zinc, selenium and strontium will be added into the water. Drinking it for a long period is beneficial to people's health, be it a baby or an elder.
Integrated water circuit, zero risk of water leakage;
The alkaline RO system is able to deliver both filtered water (undrinkable) and purified water (drinkable), which is water-saving and environmental-friendly;
Filter lifetime indicators are installed on both body and faucet;
The alkaline RO system is produced with a vibration-reduction design to ensure the noise is smaller than 50dB;
Specifications
Model
ABT-RO1720
Dimensions
430*138*375 mm
Flow rate
400GPD (1.04 L/min) (400-600GPD optional)
Filter cartridge
PPC+RO+T33+Alkaline
Filtration stage
5-stage
Filter lifetime
PPC: 6-12 months
RO: 24-60months (depending on the quality of water source) T33:12-24months
Filter cartridge type
Disposable filter cartridge
Voltage
24V
Power
60W (depending on water flow rate)
Feed water pressure
0.1-0.4MPa
Working pressure
0.4-0.8MPa
Feed water temperature
5-38℃
Ambient temperature
4-40℃
Water output
Single outlet: 6000L (two outlets: 6000L+6000L)
Optional faucet
Single-handle faucet Double-handle faucet Smart display faucet LED ring faucet
Functions (customizable)
Filter lifespan indicator Malfunction alert "Flush" button "Reset" button
Water leakage alert
Full screen flashing, with beeping
Water Filter System Installation and Filter Cartridge Replacement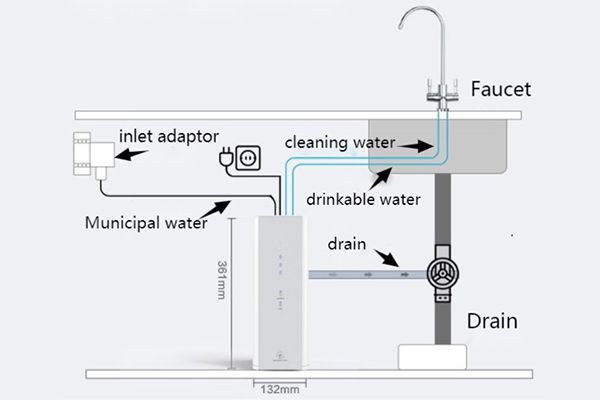 Easy Installation, DIY Installation
Filter lifetime indicator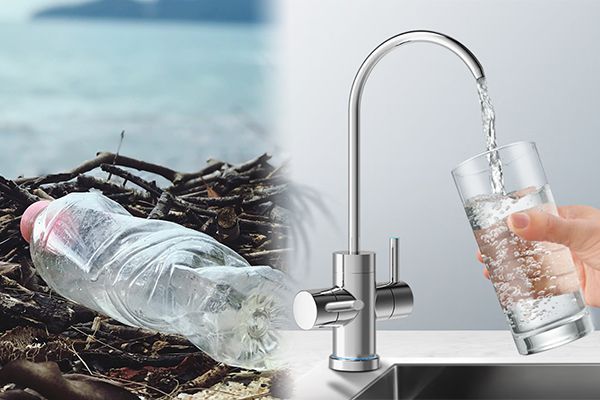 Environmentally friendly—no need for bottled water, thus no need to produce the water with plastic.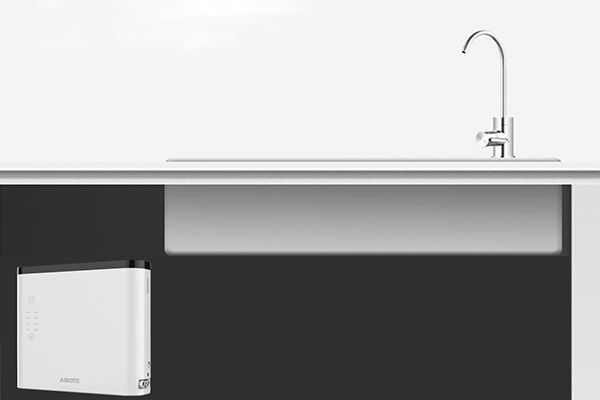 Compact design, Small footprint under the sink.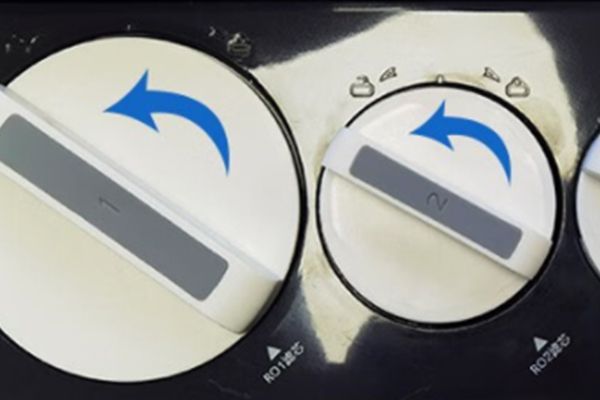 Easy change of filter cartridges
1. Turn the knob counterclockwise and pull out the expired filter
2. Insert a new filter and turn the knob clockwise
3. Put back the front cover and the filter replacement is done
Certificates
China Water Efficiency Label
CE Certificate
Validation of National Health Commission of PRC

NSF International
ISO 9001 Quality Management System
Alkaline RO System and Parts
Our manufacturing plant is made up of 4 main workshops: injection molding workshop, RO membrane rolling workshop, waterway board assembly workshop and whole unit assembly workshop. And it comes equipped with 6 intelligent injection molding lines, 3 dust-free automatic filter membrane production lines, 2 automatic filter cartridge assembling lines and 4 water filter assembling lines. At injection molding workshop, there are 57 robotic manipulators with mold monitoring system that shows the status of molds in real time. In RO rolling workshop, there are anti-UV iso-temperature warehouse to store the filters. In waterway board workshop, you will witness AIBOTE pioneering waterway board production and assembly process. In whole unit assembly workshop, standardized assembly process and inspection procedure is strictly performed. Please rest assured every Aibote product carries with Aibote people's most attention and efforts!