Filtration System 5-stage composite filter cartridge (ACF+RO+C)
UV sterilizer
Flow Rate 1.56L/min (purified cold water)
≥0.75L/min (purified 60℃ hot water);
≥0.50L/min (purified 45℃ hot water);
Functions Instant hot water availability within seconds
Smart faucet for filter life monitoring and temperature selection
One touch for filter replacement
Dry-burning prevention
Customization of touch pad to have multiple functions
Features of RO Instant Hot Water Dispenser System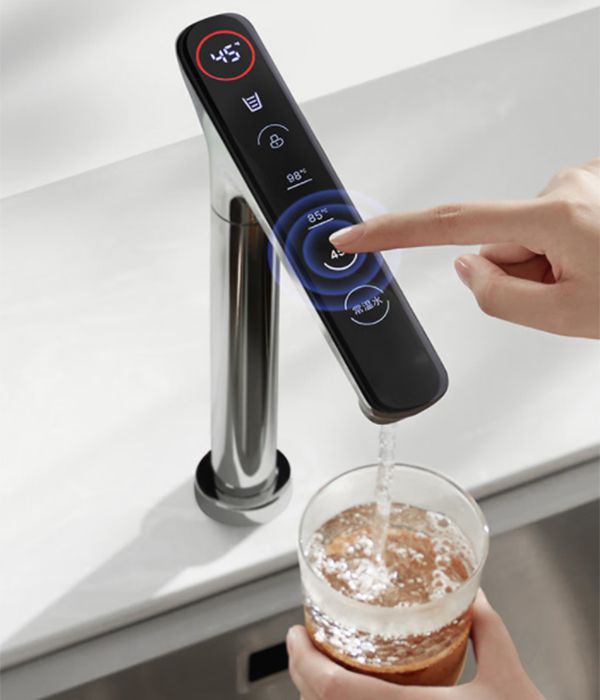 Easy Shift Between Cold and Hot Water
Aibote's RO instant hot water dispensers are equipped with a built-in heating device and a 5-in-1 filter cartridge that can deliver both purified cold water and hot water. The hot water dispenser can deliver hot water in a short period to meet your demands of drinking milk, coffee and tea, eliminating the need for purchasing multiple kitchen appliances used to deliver purified water or instant hot water like water filter kettle, thermostatic kettle and traditional water filtration system.
Remineralization and Sterilization
The composite filter cartridge (ACF+RO+C) can eliminate bad odors and unusual colors as well as impurities as small as 0.001 micron, such as bacteria, viruses and heavy metal ions. A post carbon block has also been installed to improve the taste of water and add necessary minerals, such as calcium, magnesium, ferrum, zinc, selenium and strontium.
Before delivering water, the RO dispenser will activate a UV sterilizer inside to get rid of viruses and bacteria.
The RO instant hot water dispenser is designed with an integrated water circuit for preventing water leakage;
Noise-reduction, smaller than 40dB;
Compact design, occupy small space in kitchen;
The instant hot water dispenser is equipped with a smart display faucet to display TDS level;
Filter lifetime indicator;
Easy change of filter cartridges;
Specifications
| | |
| --- | --- |
| Model | ABT-RO2103B |
| Dimensions | 456.5*150.5*379.5mm |
| Flow rate | 1.56L/min (purified cold water); ≥0.75L/min (purified 60℃ hot water); ≥0.50L/min (purified 45℃ hot water); |
| Filter cartridge | ACF+RO+C UV sterilizer |
| Filtration stage | 4-stage / 5-stage |
| Filter lifetime | 12-18 months (depending on the quality of water source) |
| Filter cartridge type | Disposable filter cartridge |
| Voltage | AC 220V/50Hz |
| Power | 2200W (+5/-10%) |
| Feed water pressure | 0.1-0.4MPa |
| Working pressure | 0.4-0.8MPa |
| Feed water temperature | 5-38℃ |
| Ambient temperature | 4-40℃ |
| Water output | 4000L |
| Faucet | Double-handle faucet with smart display |
| Functions (customizable) | TDS display of purified and tap water Filter lifespan indicator Purified water temperature indicator Malfunction alert "Select" button "Flush" button "Reset" button |
| Water leakage alert | Full screen flashing, beeping |
Water Filter System Installation and Filter Cartridge Replacement
Simple installation of under sink water filter system, DIY installation is possible
Real-time monitoring of filter cartridge lifetime
Easy change of filter cartridge
1. Place the water filter system horizontally and steadily
2. Press the cartridge-changing button and the cartridge will be ejected, and push the new filter into the system
3. Press the "Reset" button for resetting and flushing of the filter cartridge
No need for bottled water, less plastic waste.
Certificates
China Water Efficiency Label
CE Certificate
Validation of National Health Commission of PRC

NSF International
ISO 9001 Quality Management System
Our manufacturing plant is made up of 4 main workshops: injection molding workshop, RO membrane rolling workshop, waterway board assembly workshop and whole unit assembly workshop. And it comes equipped with 6 intelligent injection molding lines, 3 dust-free automatic filter membrane production lines, 2 automatic filter cartridge assembling lines and 4 water filter assembling lines. At injection molding workshop, there are 57 robotic manipulators with mold monitoring system that shows the status of molds in real time. In RO rolling workshop, there are anti-UV iso-temperature warehouse to store the filters. In waterway board workshop, you will witness AIBOTE pioneering waterway board production and assembly process. In whole unit assembly workshop, standardized assembly process and inspection procedure is strictly performed. Please rest assured every Aibote product carries with Aibote people's most attention and efforts!