Filtration System PPC filter: PP+C+PP composite filter
RO filter: Reverse osmosis membrane filter
T33 filter: T33 carbon block with alkaline
Flow Rate 500GPD (1.3L/min), flow rate availability 75GPD-500GPD
Personalized Functions LCD display screen to show TDS and filter cartridge life
With alkalization and remineralization
Ultra-filtration filter cartridge can be configured
Dual outlet to deliver purified water for cleaning and direct drinking purposes
Model Options
Model ABT-RO1717A-500G
Dimensions 418X150X397mm
Filter cartridge PPC+RO+T33+Alkaline
Number of filtration stage 4-stage / 5-stage
Model ABT-RO1717B-500G
Dimensions 418X150X397mm
Filter cartridge PPC+RO+T33+Alkaline
Number of filtration stage 4-stage / 5-stage
Features of Tankless Reverse Osmosis System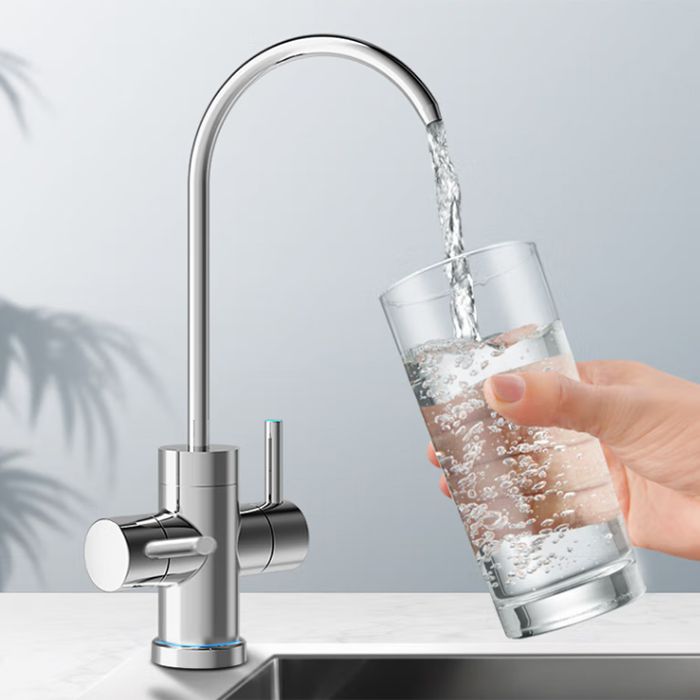 Reverse osmosis system with tankless design for highly purified drinking water
This RO water filter system is a kind of conventional water purification system with three separate filters (PPC, RO, T33) to deliver purified drinking water. The PPC filter consists of PP cotton, a compressed activated carbon block and a second layer of high-precision PP cotton that can remove sand, rust, sediments and odors. And other contaminants like heavy minerals, bacteria and virus would be eliminated by the RO membrane filter with filtration precision of 0.0001um-0.001um. Nothing but insipid water is left after these processes. Therefore we place a T33 filtration cartridge that can add minerals essential to people's health back into water. After that, you would have weak alkaline drinking water.
Two outlets for dual use
This tankless water filter system has two water circuits to deliver two types of filtered water. The water filtered through PPC filter cartridge is used for washing fruits and vegetables, while the water filtered by PPC+RO+T33 composite filter is safe to drink.
Specially-designed integrated water circuit effectively prevents water leakage
Fast-flow, fresh and great tasting water perfect for drinking and cooking
Quiet operation with noise level of less than 40dB
Small size of the tankless water filter system saves space in your kitchen
Real-time monitoring of water TDS, which can be read via smart display faucet
Timely reminding of filter cartridge lifetime to ensure safe and healthy drinking water
Specifications
Model
ABT-RO1717A-500G
Dimensions
418X150X397mm
Flux
500GPD(1.31L/min) (75GPD-500GPD optional)
Flow rate
1.31L/min
Filter cartridge
PPC+RO+T33+Alkaline
Number of filtration stage
4-stage / 5-stage
Filter cartridge lifetime
PPC: 6-12 months
RO: 24-60 months (depending on quality of water source) T33: 12-24 months
Filter cartridge type
Disposable filter cartridge
Voltage
24V
Power
75W (depending water flow rate)
Feed water pressure
0.1-0.4MPa
Operation pressure
0.4-0.8MPa
Feed water temperature
5-38℃
Ambient temperature
4-40℃
Rate water output
Single outlet: 6000L Dual outlet: 6000L+6000L
Optional faucet
Single-handle faucet Double-handle faucet LED ring faucet Smart display faucet
Functions (customizable)
Raw water and purified water TDS display Filtration cartridge lifetime display Water processing indicator Faults indicator "Flush" button "Reset" button
Water leakage alert
All indicators are flashing with beeping
Water Filter System Installation and Filter Cartridge Replacement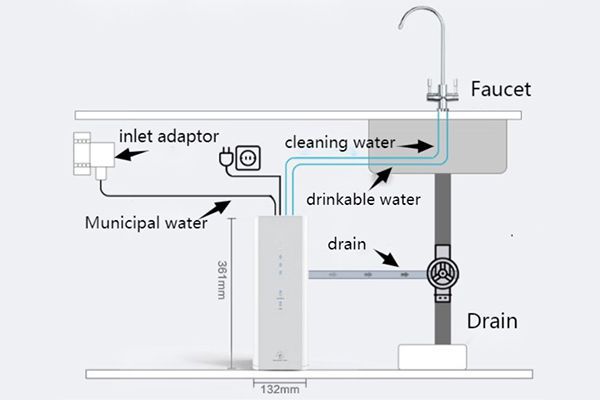 Simple installation of tankless water filter system, DIY installation is possible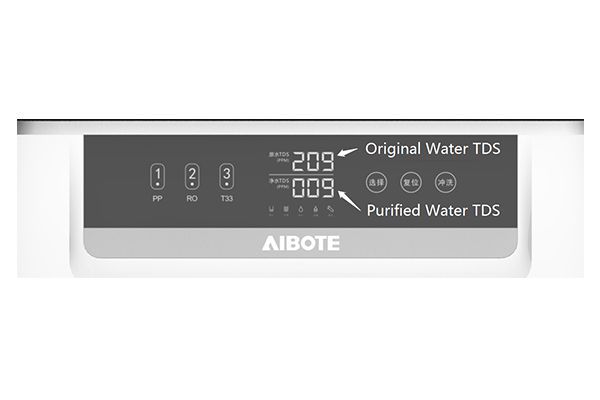 Easy replacement of filtration cartridge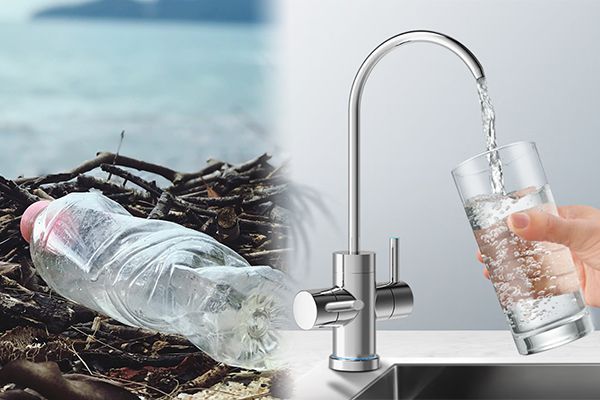 Our eco-friendly RO water filter system could help reduce the consumption of bottled water, thus saving your money and protecting the environment from plastic waste.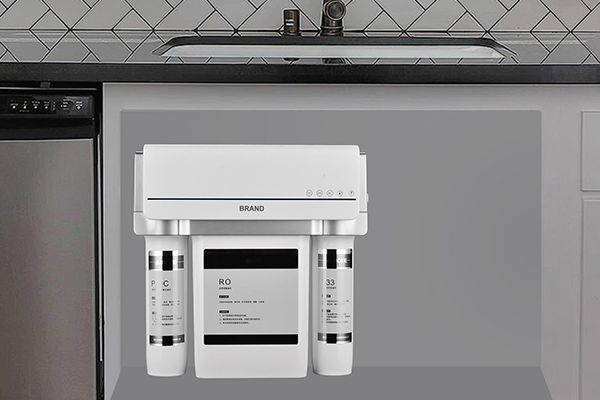 The compact design allows this water filter system to fit into even a narrow undersink space.
Real-time monitoring of filter cartridge lifetime
Certificates
China Water Efficiency Label
CE Certificate
Validation of National Health Commission of PRC

NSF International
ISO 9001 Quality Management System
Tankless RO Water Filtration System with Components
Our manufacturing plant is made up of 4 main workshops: injection molding workshop, RO membrane rolling workshop, waterway board assembly workshop and whole unit assembly workshop. And it comes equipped with 6 intelligent injection molding lines, 3 dust-free automatic filter membrane production lines, 2 automatic filter cartridge assembling lines and 4 water filter assembling lines. At injection molding workshop, there are 57 robotic manipulators with mold monitoring system that shows the status of molds in real time. In RO rolling workshop, there are anti-UV iso-temperature warehouse to store the filters. In waterway board workshop, you will witness AIBOTE pioneering waterway board production and assembly process. In whole unit assembly workshop, standardized assembly process and inspection procedure is strictly performed. Please rest assured every Aibote product carries with Aibote people's most attention and efforts!